Back to news
Treat yourself to a sauna with aromatherapy beneficial for your body and mind
Aromatherapy is an integral part of the sauna, which turns a simple stay in the sauna into an unforgettable experience. Thanks to fragrant and herbal essences, there is a more intensive relaxation of the mind, but also, for example, muscles or respiratory tracts. There is a wide range of scents and medicinal herbs available, so you can choose according to what you are feeling or what is bothering you.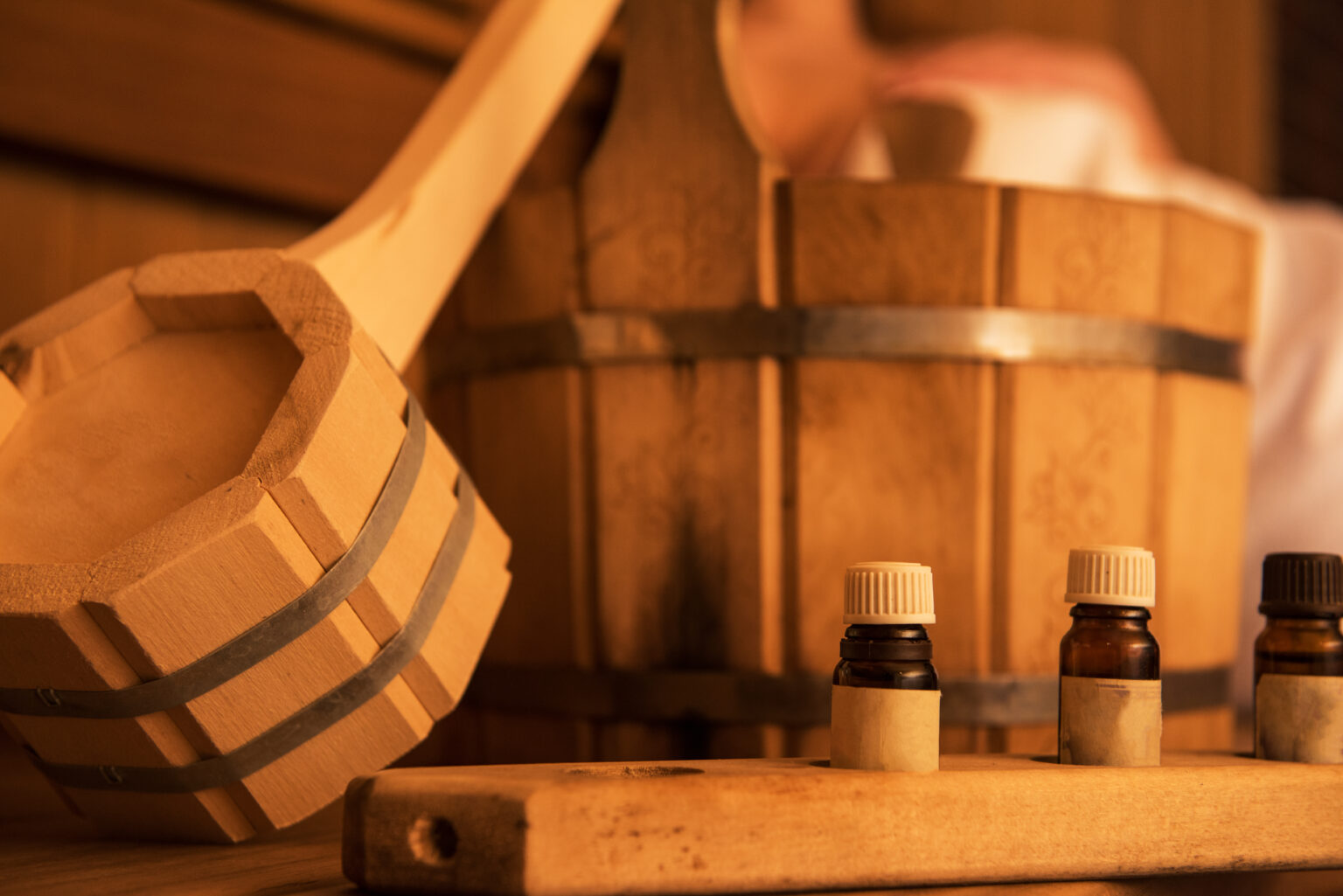 Aromatherapy is suitable for Finnish saunas, biosaunas, and steam cabins with high air humidity. Several methods of applying scented essences can be used during regular sauna use. You can use aromas in the water that you pour over a hot stove, or you can equip the stove with bowls designed for fragrant essences, from which the aromas are slowly released during the sauna. Essential oils are also popular, or you can try pillows filled with pure herbs (chamomile, lavender, lemon balm, and others), which are placed on a base near a hot stove.
During the sauna, herbal essences are inhaled from the steam, thanks to which the active substances enter the body. Our body perceives them through its receptors and hormones, which ensure the transmission of the sensation to the brain. Thanks to this, the nervous system is relaxed or, on the contrary, stimulated. Some herbal essences (eucalyptus, mint, etc.) have an immediate effect on our respiratory tract after inhalation. Others are absorbed through the skin and help us clean the skin or relax the muscles. Below we select for you several types of scents and herbs and their effects on our body and mind.
Anise will perfume your sauna with a pleasant, sweet scent. Its essence has a beneficial effect on the digestive system, relieves cramps and menstrual pain, and cleans the respiratory tract. It also has positive effects on our psyche and reduces anxiety and depression.
Basil is an herb commonly used mainly in the kitchen. But did you know that it not only tastes great but also helps with digestion? Above all, it has a positive effect on the nervous system, calms, relieves anxiety and headaches, and strengthens concentration.
Pine is a popular scent that by its very nature evokes the impression of a peaceful walk through the woods. The biggest advantage of pine essence is its disinfectant and antiseptic effects, which positively affect our health. Pine also unclogs the airways, perfuses the mucous membranes, and helps with asthma. It positively affects mood and banishes gloom and insomnia.
Citrus fruits improve the ability to concentrate. The citrus aroma refreshes and activates the body and mind. Lemons and citrus fruits in general have a positive effect on our body and organs, help fight excess weight, cellulite, or urinary stones and generally purify the organism. In addition, citrus fruits are proven to improve mood: they evoke in us the Mediterranean summer, joy, and lightness of life.
Lemongrass with its intense citrus-like scent refreshes motivates and invigorates. Lemongrass has a stimulating and calming effect on the mind, improves concentration, and revives imagination and creativity. It has an antibacterial effect, promotes skin cleansing, and relieves muscle tension.
Eucalyptus is a very intense scent that has a good effect on our psyche, relieves migraines and headaches, and helps to concentrate better. This fragrance is suitable for respiratory problems. Eucalyptus also helps to heal wounds.
Jasmine is one of the most popular herbs in the world. No wonder, jasmine encourages mood and optimistic thoughts, relieves stress, and tension, and induces a feeling of peace, joy, and euphoria. In addition, it acts as an aphrodisiac and stimulates our sensuality.
Lavender has a significantly positive effect on the nervous system. It helps with nervousness, migraines, states of exhaustion, and insomnia. Lavender induces an intensely relaxing effect, calms the body, and promotes restful sleep. In addition, it has antiseptic effects, lowers blood pressure, and helps with flu and colds.
Mint is a very refreshing scent. The peppermint aroma has a beneficial effect on the respiratory tract and helps to improve sweating. Mint stimulates brain activity, refreshes, and harmonizes the mind, encourages fatigue, and relieves headaches.
Lemon balm is known and loved for its soothing and calming effects. It calms the nerves, helps with stress, and promotes peaceful, healthy, and regular sleep.
Rosemary is spicy and fresh with a strong nuance and therefore has an invigorating and concentrating effect. Medicinal rosemary creates a subjective feeling of warmth and strengthens and invigorates the entire organism.
Spruce needles have antibacterial and antiviral properties, strengthen the immune system, and thus help prevent colds and allergy symptoms. It also has antispasmodic and antirheumatic effects and a positive vitalizing effect on our body.
When choosing aromas, consider your state of health and the composition of essences. Some scents can be very intense and affect, for example, our blood pressure. Several other fragrant and herbal essences (anise, basil, cedar) are not suitable for pregnant women and children under 2 years of age.
Do you want to smell or spice up your stay in the sauna? Choose from a wide range of fragrance essences that you can find in our e-shop.