Back to news
A newcomer to our offer – the NEO brand
Premium fiberglass pools and sliding pool covers are hidden under the NEO brand, which you can now find in our offer. NEO swimming pools and roofs focus on well-thought-out design, modern technology, and high-quality materials, which make them the perfect choice for your garden.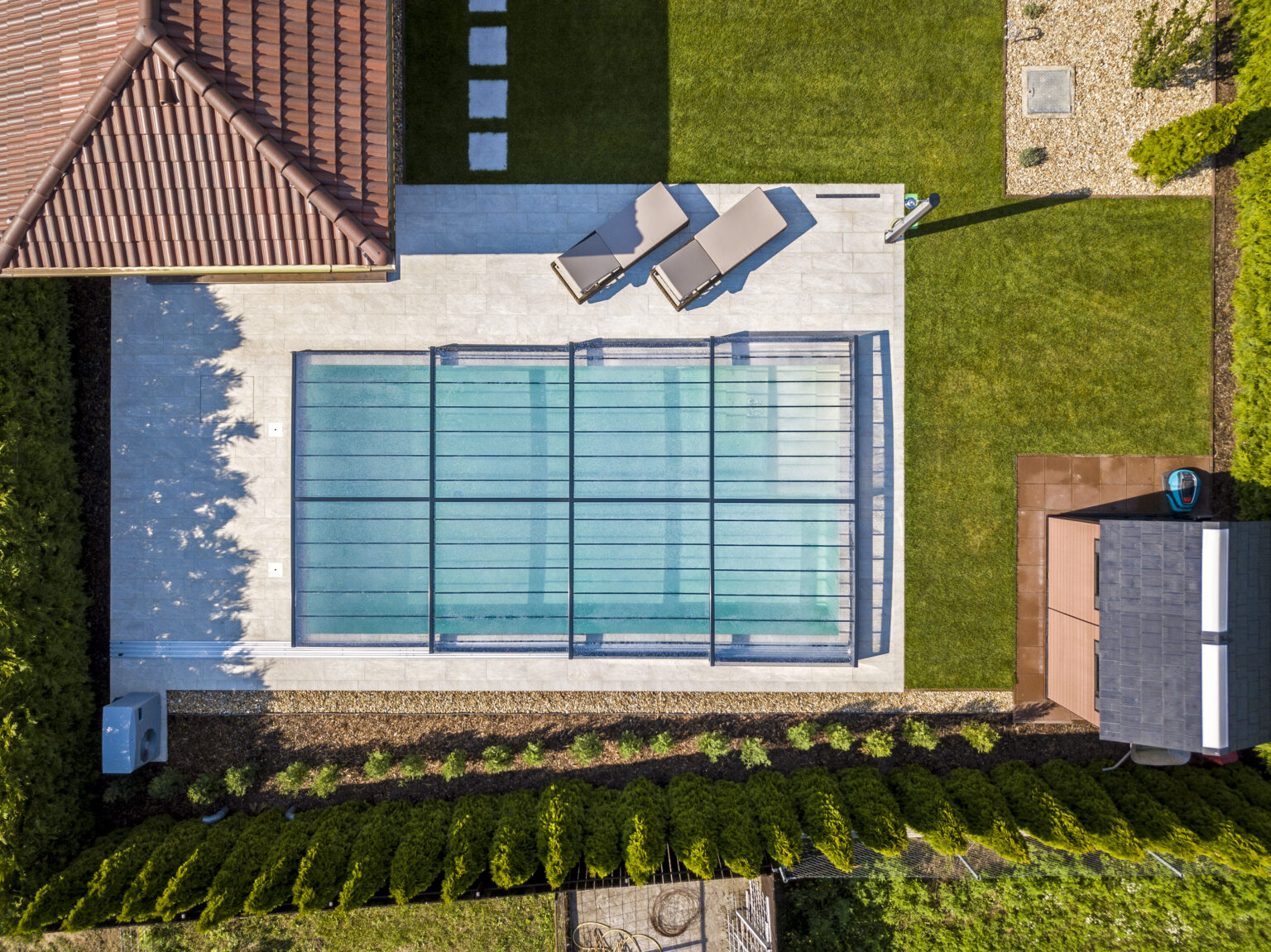 NEO Fiberglass Swimming pools
A modern family pool – this is a NEO brand pool. We offer three series of typified models with different dimensions, from which everyone can choose for their garden. There is a specific original staircase solution for individual models. In addition, you can adapt the pool to your ideas, not only with several water accessories and attractions from our offer but also by choosing the lighting of the pool and the color of the fiberglass shell.
The advantage of NEO pools is the color fastness of the surface, which, thanks to its composition, is smooth and pleasant to the touch. The strength of the surface material ensures easy and trouble-free pool maintenance as well as resistance to mechanical damage. The ten-year warranty is proof of the trust you can place in NEO products together with us.
Choose a fiberglass pool according to your ideas and the possibilities of your space. All offered typed models can be found here.
NEO Pool enclosures
If you want to extend the swimming season, get a cover for your pool. The pool cover is an important part of the pool that saves you the cost of heating and maintaining the pool water. But it also protects your children and pets from falling into the pool. You can choose a sliding roof at any time, not only for a newly built but also for an existing pool of any type. The roof works on the principle of segments of decreasing size, which, when opened, are assembled at the edge of the pool.
As with laminate pools, also in the case of pool roofing, the NEO brand offers many options – it offers several typical models that differ in size and usability. With all of them, you can choose from several color shades of the construction. However, the decisive factor is the height of the roof, which also determines the possibilities of its use. The lower NEO models are a design alternative to other types of pool cover, while the higher arched models already allow swimming under the closed cover. However, the offer also includes the ARA model, which already represents a sliding cover high enough to cover the pool and its surroundings with a relaxation zone with furniture.
Whether you want a low covering of the water level or a pool with its own covered terrace, you will find the right enclosure for your pool with us. NEO sliding enclosure models can be found in our pool catalog.
Want to learn more about the NEO brand and view our products? Order our free catalog of pools with delivery to your home!